Forever Knight Episode Guides
Forever Knight Season 1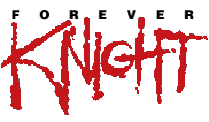 Season 1 Cast

NICHOLAS KNIGHT
GERAINT WYN DAVIES

NATALIE LAMBERT
CATHERINE DISHER

LUCIEN LACROIX
NIGEL BENNETT

JANETTE
DEBORAH DUCHENE

DONALD SCHANKE
JOHN KAPELOS

CAPT. STONETREE
GARY FARMER

This episode guide is in grid form, broken down into three, brief descriptive sections: On the Job - the case Nick is involved with; Personal/Vampire - what's going on in Nick's personal life or vampire world; and Flashback/Dreams- those dreams and memories from the past that cause Nick to bolt awake covered in blood sweat, or zone out and nearly drive off the road. I've also added a rating of 1-4 stars to each episode. These ratings are based solely on my own opinions and the fact that I like Nick best when he's being naughty.

Star Ratings: 4 = A definite must see; 3 = Good; 2 = Fair; 1 = "What else is on?"
Episode Title

Episode 6


DARK KNIGHT PART 1
****
Nick Knight, vampire cop teams up with new partner Don Schanke to investigate a series of murders where the victims are all drained of blood.
Nick falls for Alyce, the museum curator, while attempting to secure the mate to an ancient Jade cup which may make him human again.
In 1228 - Paris, noble knight, Nicholas de Brabant has just become a vampire and is encouraged by LaCroix and Janette to kill his first victim.

Episode 2
DARK KNIGHT PART 2
****

Nick begins to believe Schanke is right in his assumption that the killer they're seeking is after people with type-O blood.
Nick violently confronts his vampire master LaCroix, who wants to keep the Jade cup out of his reach.
In 1228, Nicholas has second thoughts about becoming a vampire, but LaCroix convinces him he's made the right choice.
Episode 3
FOR I HAVE SINNED
***
Nick and Schanke search for a murderer whose female victims all attended the same church.
Nick tries to overcome his fear of crosses and other religious symbols.
In 15th Century France, the Dark Knight meets Joan of Arc.
Episode 4
LAST ACT
***
Nick thinks otherwise when a doctor is thought to have committed suicide.
When Erica, a vampire friend of Nick's ends her life by walking into the sun, he gives the idea some thought as well.
In the late 1700s - England, Nicholas and Erica are stage actors and lovers.
Episode 5
DANCE BY THE LIGHT OF THE MOON
****
An exotic dancer uses her looks and charm to seduce men into committing murders for fun.
Nick shows his dark side when he becomes attracted to the beautiful, suspected killer.
In 1228, Nicholas is seduced by Janette into becoming a vampire.
Episode 6
DYING TO KNOW YOU
**
A psychic is asked to help out on a kidnap/murder case, but when Nick's near, she "sees" more than she bargained for.
Nick realizes that the psychic is picking up images of his vampire life and might go insane if he doesn't let her in on his secret.
In the mid-1600s, a man loses his sanity when he witnesses his good friend Nicholas performing inhuman feats.
Episode 7
FALSE WITNESS
**
A porno king is arrested for murdering an informant, and Nick is a witness. Or is he?
Nick considers committing perjury to convict a known criminal on a false charge. Great popcorn scene with Nat.
In the 1830s - England, a young man is falsely accused of killing a woman that Janette had as dinner.
Episode 8
CHERRY BLOSSOMS
*
In Chinatown, Nick tries to aid a wounded young woman targeted by the mob.
An old Chinese doctor who thought he saw Nick kill his mother when he was very young, plots revenge.
In 1916 - San Francisco, Nick goes to a Chinese healer for treatment against his blood craving.
Episode 9
I WILL REPAY
***
A murderer goes on a spree, killing people with his bare hands and teeth.
A reluctant Nick is pressured by Nat into saving her dying brother by turning him into a vampire.
Mid-1700s, Nick brings a young woman across to save her life, then has reason to regret it later.
Episode 10
DEAD AIR
**
A serial killer calls a radio psychiatrist's talk show to commit his murders live on the air.
Nick has to spend the day in his trunk.
In the 1400's, LaCroix tortures and murders a man because of the resemblance to his father.
Episode 11
HUNTERS
**
After one of his oldest friends on the force is murdered, Schanke discovers that he is next on the assassin's list.
Nick has to scramble to create a full background for himself when it's discovered that his police history is incomplete.
Early 1800s, Nick, Janette, and LaCroix are chased by vampire hunters and cornered in an old shack.
Episode 12
DEAD ISSUE
*
The wife of Stonetree's best friend, confesses to shooting a man in self-defense.
Nick attends the precinct's annual picnic.
Nick discovers that the artist he has been modeling for has been molesting his female model.
Episode 13
FATHER FIGURE
***
A little girl is the only witness to a mob hit, and Nick is assigned to protect her.
While baby-sitting Lisa, Nick is accidentally blinded when the girl playfully exposes him to sunlight.
In 1940's London, Janette wants to "adopt" a street urchin, and Nick soon begins to fear for the boy's safety.
Episode 14
SPIN DOCTOR
*
When a journalist is murdered during a mayoral campaign, evidence points to one of the two candidates running for election.
Nick gets caught in the middle when Nat and Schanke are for opposing candidates.
In 1954 Chicago, archeology professor Nicholas Girard is brought up on charges of Communism.
Episode 15
DYING FOR FAME
**
A rock star confesses to murdering the man she spent the night with, but Nick doesn't believe she's guilty.
Nick has to face working a few daylight hours, then spends a lot of time either daydreaming or hallucinating. I'm not sure which.
Daydreaming meets music video. Nick is possibly a band member with the Grateful Dead.
Episode 16
ONLY THE LONELY
****
Nick and Schanke track a killer who meets his victims through a dating service
Nick experiences a bout of jealousy when Nat meets and goes out on a date with someone new.
It's 1990 Toronto and a handsome corpse named Nick Knight comes to life on Nat's examining table.
Episode 17
UNREALITY TV
**
Nick and Schanke play hosts to a TV crew who rides along with them and tapes their every move.
Nick is caught on tape getting shot and has to deal with the Enforcers when a reporter refuses to give up the tape even to save her life.
When a Civil War photographer takes pictures of LaCroix feeding, Nick tries to make the man forget and give up the pics in order to save him from the Enforcers.
Episode 18
FEEDING THE BEAST
****
When men from the same 12-step group end up murdered, Nick is assigned to go undercover.
With sponsor Monica Howard's help, Nick attempts to use the 12-step program to kick his addiction to blood.
Nick has dreams and visions of LaCroix encouraging him to drink blood from both the bottle and from the living.
Episode 19
IF LOOKS COULD KILL
**
Young women from the same health spa suddenly flip out and become murderous.
Natalie suspects a vampire is involved when the body of a young woman ages dramatically in a few hours.
Early 1800s. A woman concerned with aging wants Nick to bring her across so she can keep her beauty.
Episode 20
FATAL MISTAKE
***
Stonetree shoots a young robber in what he believes is self-defense, but the evidence shows otherwise.
Nick is being haunted by what may be the ghost of a woman he once killed.
Nick seduces and drains a sexy barmaid, then feels regret and fear afterwards.
Episode 21
1966
***
A gunman with a grenade holds the entire precinct hostage.
Nick gets a surprise phone call from someone in his past.
Nick helps a family to escape from East Berlin while searching for a book reported to have a cure for vampirism.
Episode 22
LOVE YOU TO DEATH
***
A model resembling someone Nick once knew is murdered and a second model may be next.
Janette wants Nick to discuss his troubled feelings over a ballerina he once loved from afar.
About 1890, LaCroix convinces Nick that the girl of his dreams isn't what she appears to be.
Forever Knight Season 2
Season 2 Cast

NICHOLAS KNIGHT
GERAINT WYN DAVIES

NATALIE LAMBERT
CATHERINE DISHER

LUCIEN LACROIX
NIGEL BENNETT

JANETTE
DEBORAH DUCHENE

DONALD SCHANKE
JOHN KAPELOS

CAPT. AMANDA COHEN
NATSUKO OHAMA

This episode guide is in grid form, broken down into three, brief descriptive sections: On the Job - the case Nick is involved with; Personal/Vampire - what's going on in Nick's personal life or vampire world; and Flashback/Dreams- those dreams and memories from the past that cause Nick to bolt awake covered in blood sweat, or zone out and nearly drive off the road. I've also added a rating of 1-4 stars to each episode. These ratings are based solely on my own opinions and the fact that I like Nick best when he's being naughty.

Star Ratings: 4 = A definite must see; 3 = Good; 2 = Fair; 1 = "What else is on?"
Episode Title

On The Job

Personal/Vampire Issues

Flashbacks/Dreams

Episode 1


KILLER INSTINCT
****
At a new precinct with new captain, Amanda Cohen, Nick and Schanke investigate the strangulation deaths of several drug offenders.
Nick suspects that another vampire is out to sabotage his present life as a cop by framing him for murder.
Paris, 1228 - Nicholas learns from LaCroix about the new bond they now share, and will continue to share forever.

Episode 2


A FATE WORSE THAN DEATH
***
Nick and Schanke investigate the murder of a prostitute, whose pimp is their number one suspect.
Nick is surprised by a sympathetic Janette who goes out of her way to aid and protect mortal ladies of the evening.
Paris, c. 1000 - To save her from life as an impoverished and battered prostitute, LaCroix brings Janette across.

Episode 3


STRANGER THAN FICTION
****
When an attempt is made on the life of Emily Weiss, author of a famous series of vampire novels, Nick and Schanke are assigned to protect her.
Nick is being pressured by LaCroix and Janette to kill Emily because the vampire community thinks her novels are too realistic.
Everybody into the pool! Nick, Nat, Emily and Schanke each have their own fantasy daydream scenes from the book, casting themselves as the lead characters.

Episode 4


BAD BLOOD
**
Inspector O'Neal of Scotland Yard assists Nick and Schanke in tracking a Jack the Ripper type serial killer.
Inspector O'Neal , who knows the killer he's hunting is a vampire, suspects Nick of being one too.
London, 1888 - LaCroix attacks Jack the Ripper, whose blood he discovers is poisonous, then asks Nicholas to destroy Jack to keep him from coming across.

Episode 5


FORWARD INTO THE PAST
***
Nick knows more than he's willing to share with his partner about an elderly woman found tortured to death.
Hoping to find an old friend before a killer does, Nick seeks the help of Aristotle, a vampire who assists others in establishing a new life.
Toronto, 1950's - Nicholas Hammond helps a mortal friend to disappear after an attempt is made on her life.

Episode 6


CAPITAL OFFENSE
***
Nick believes that Laura Garfield, a young woman convicted of murder in Texas, was framed.
Nick makes it a personal issue to prove that Laura is innocent before she can be extradited back to Texas for execution.
France, Early 1800s - While escaping from a mob, Nicholas finds refuge in a church root cellar aided by a young nun.

Episode 7


HUNTED
***
A series of murders lead to the conclusion that the victims were being hunted for sport.
The hunter has discovered what Nick is and decides to make him the next target.
Early 1800s - LaCroix takes his youngsters hunting, to teach them the "thrill of the chase."

Episode 8


FAITHFUL FOLLOWERS
***
Nick goes undercover in a cult to investigate the supposedly accidental death of a Councilman's son.
Natalie and Schanke are concerned when it appears that Nick has fallen deeply under the cult's spell.
Egypt, c. 1924 - Thomas, an archeologist and vampire tells Nicholas that he's discovered "the cure" written in ancient hieroglyphics and just needs someone special to translate.

Episode 9


UNDUE PROCESS
***
Nick and Schanke must protect the suspected killer of Natalie's goddaughter from vigilante violence while waiting for sufficient forensic evidence to charge him.
Nick uses his hypnotic powers to coax a confession from the suspected child murderer.
Mid 1700's - Nick is hung by a mob for a crime he did not commit, and returns to take his revenge on its leader.

Episode 10


FATHER'S DAY
****
Nick goes against Capt. Cohen's orders as he tries to help the great-grandson of Don Constantine escape from his mob family ties.
Nick comes to terms with having LaCroix as a father figure in his life.
1925 - Nicholas tries to escape from the domineering LaCroix, with the help of mob leader, Don Constantine.

Episode 11


CAN'T RUN CAN'T HIDE
***
Nick and Schanke go after respected parole officer, Casey Brown who's a suspect in the murder of several Vietnam vets.
Nick attempts to save Casey from another vampire seeking revenge for the deaths of his people in Vietnam.
Vietnam, 1971 - The inhabitants of a small village that Red Cross worker, Nick Parker has been treating, is massacred by an American cleanup crew.

Episode 12


NEAR DEATH
****
The detectives investigate the mysterious death of a doctor who shouldn't be dead.
Nick becomes involved in a near-death experiment, in hopes of dying as a mortal.
1228 - Nicholas is on the verge of death after LaCroix drains his blood and awaits his return as a vampire.

Episode 13


CRAZY LOVE
****
Nick and Schanke search for an escaped psychopathic killer while investigating the murders of other patients from a mental hospital.
Having gone a little too long without intimate contact of a vampiric nature, Nick calls on Janette to fill the void.
Nicholas is driven to possess a young woman's will, knowing that her love for him will only lead to her destruction.

Episode 14


BABY BABY
***
Selena, a mistake from Nick's past complicates a murder investigation.
Selena plans to use a mortal man to obtain her goals, despite Nick's objections.
Paris, 1922 - Nicholas misinterprets a highly independent woman's advances towards him.

Episode 15


PARTNERS OF THE MONTH
****
Nick and Schanke are at odds with each other over a case involving a woman who may have killed her husband.
Nick reluctantly allows his partner to move in with him after Schanke leaves his wife. Schanke later has a nice heart-to-heart chat with Janette.
Italy, c. 1500 - Janette decides to leave Nicholas after spending nearly a hundred years together as a couple.

Episode 16


THE FIRE INSIDE
**
A man calling himself "The Dragon" uses a flame-thrower to eliminate the homeless living in the sewers and tunnels beneath the streets.
Because of the case he's working on, Nick has to face his fear of fire.
1850's - Against LaCroix and Janette's advice, Nick aids a runaway slave and his son who show up at the cabin where they planned to spend the day.

Episode 17


AMATEUR NIGHT
***
Schanke provides expert help for a cop movie being filmed in the area. Meanwhile, Nick deals with a drive-by, gang shooting of a young girl.
Nick gives in to Schanke's request to let movie star, Alix Logan hang out with them unofficially so she can prepare for her movie role.
Chicago, Late 1960's - Using his hypnotic capabilities, Nick gets himself hired as a cop, bypassing the usual Police Academy training.

Episode 18


THE FIX
****
When an old partner of Schanke's commits suicide, leaving the indication that he had been a dirty cop, Nick is convinced that there's more to the story.
Natalie seems to have found a cure for Nick's vampirism, but the drug used has some bad side effects, including being highly addictive.
1850's - In searching for a cure for his vampirism, Nick puts his trust in a doctor whose true motives lie elsewhere.

Episode 19


CURIOUSER AND CURIOUSER
****
Nick is in quite a quandary when he has to investigate the murder of a radio talk show host known as the Nightcrawler.
Feeling responsible for a woman's death, causes Nick to be catapulted into an alternate world where he's mortal and vampires don't exist.
1228 - Fledgling vampire, Nicholas begins to feel guilt over having to kill for food.

Episode 20


BEYOND THE LAW
**
An Ambassador with diplomatic immunity is the prime suspect in the strangulation deaths of two young women.
Nick goes against orders and risks his career to bring to justice the diplomat he feels is responsible for the murders.
Chicago, 1968 - Off duty cop, Nick, provides security for a presidential candidate who abuses his political power with disastrous results.

Episode 21


THE QUEEN OF HARPS
***
At an auction house, the auctioneer is murdered and the only item taken from the premises is a harp which Nick had bid on and lost.
Nick is willing to do almost anything to get his hands on an antique harp which belonged to someone he knew before he became a vampire.
During his pre-vampire days, Sir Nicholas meets Lady Gwyneth, an enchanting harp player, but alas, their budding romance is not meant to be.

Episode 22


CLOSE CALL
****
After Nick miraculously saves him during a shootout, Schanke begins to wonder just how his partner manages such impressive police work.
Schanke questions both Janette and LaCroix when he grows to suspect Nick of being not quite human.
This time the flashbacks belong to Schanke who begins to think twice about some of the odd things he's witnessed Nick do and say.

Episode 23


BE MY VALENTINE
****
Nick and Schanke investigate the murders of two women who received valentines from their killer.
Nick finally takes the first steps towards romance with Natalie, but he doesn't realize that he's being watched closely by a lovelorn LaCroix.
Brabant, 1229 - LaCroix is annoyed at having to visit Nicholas' human family, until he meets and falls in love with Fleur, Nick's little sister.

Episode 24


THE CODE
***
Nick and Schanke strongly disagree over the deaths of two people who ingested the same tainted, over-the-counter drug.
Nick finds himself feeling left out when an old partner and childhood friend of Schanke's shows up.
The Old West - Lone drifter Nick meets up with another drifter who's not as friendly as he first appears.

Episode 25


A MORE PERMANENT HELL
****
An astronomer's apparent suicide leads to predictions of a meteor colliding with Earth and widespread panic.
Afraid of dying when the meteor hits, Natalie asks Nick to make her a vampire.
Pompeii, 79 - As Mount Vesuvius is about to erupt, LaCroix is given the opportunity to extend his existence, indefinitely.

Episode 26


BLOOD MONEY
***
The son of a financier is suspected of killing his father to gain access to the family fortune so he can pay off gambling debts.
Nick becomes nervous about losing all the wealth he's accumulated over the centuries when the mortal handling his secret finances is killed.
France c.1600's - A taste for riches as well as for blood leads Nicholas to join in on a kidnapping scheme, then betray his accomplice.
Forever Knight Season 3
Season 3 Cast

NICHOLAS KNIGHT
GERAINT WYN DAVIES

NATALIE LAMBERT
CATHERINE DISHER

LUCIEN LACROIX
NIGEL BENNETT

TRACY VETTER
LISA RYDER

JAVIER VACHON
BEN BASS

CAPT. JOE REESE
BLU MANKUMA
Episode Title
Episode 1
THE BLACK BUDDA PART 1
***
Schanke and Capt. Cohen are two of the casualties on a airplane destroyed by a psychotic bomber. Nick is paired with rookie partner, Tracy Vetter.
Because of a bad luck charm he kept called the Black Budda, Nick blames himself for the deaths of Schanke and Cohen. Tracy meets new vampire in town, Vachon.
1912 - Aboard the Titanic, Nick meets a woman who knows what he is and wants him to make her a vampire, until the unsinkable happens.
Episode 2
THE BLACK BUDDA PART 2
*
The search for the bomber continues as his targets grow in both volume and scale.
Nick uses his new vampire friends Vachon, Screed and the Inca to help round up bombs that have been planted by the bomber.
Lake Titicaca, 1531 - Mortal enemies Vachon and the Inca are brought across by the same master at the same time.
Episode 3
OUTSIDE THE LINES
**
When a young woman is murdered at a nightclub known for drug trafficking, undercover cop, Bruce Spencer sees to it that justice is done his way.
Nick can't convince Tracy that Bruce, her old friend from the Academy, isn't the good cop and great guy he used to be.
France, 1942 - Nick may have judged too quickly when a member of his rebel group is suspected of being a Nazi spy.
Episode 4
BLACKWING
***
A court battle over Native land rights leads to the murder of Gary Blackwing, a tribal elder.
Marian, the granddaughter of Gary Blackwing, uses her tribal gift to take away the evil sprit that dwells inside of Nick.
Spiritually linked, Nick andMarian walk the spirit plain which, among other things, enable them to "see" crimes being committed through another's eyes.
Episode 5
BLIND FAITH
**
The serial rapist and killer that Nick and Tracy are after, is attacked and killed by a wild animal with vampire-like qualities.
Nick comes to the aid of a blind woman whose seeing-eye dog was attacked by a lower form of vampire known as a Carouche.
c.1883 - LaCroix shows his disapproval of Nicholas' new canine pet by feeding the animal to a Carouche and consequentially turning it into a hound from hell.
Episode 6
MY BOYFRIEND IS A VAMPIRE
**
A woman is found murdered shortly after appearing on a tell-all talk show where she reveals that her boyfriend is a vampire.
Feeling used and unloved, Natalie decides to break off all contact with Nick, despite his objections.
Spain, 1792 - Vachon, and a couple of vampire buddies enjoy treating mortal women like sex objects and fast food.
Episode 7
HEARTS OF DARKNESS
*
A mousy young woman found at a sexy crime scene, can't recall what happened to a man who was apparently killed by a vampire.
Nick suspects that Urs may have something to do with the murder and asks Vachon to help keep an eye on her.
New Orleans, 1890 - Urs meets Vachon, and upon finding out he's a vampire, begs him to kill her.

Episode 8


TROPHY GIRL
***
On her own, Tracy goes undercover as an escort to help track a serial killer who decapitates his victims and cuts off their hands.
Nick chats with a confined serial killer - a la "Silence of the Lambs" - in order to get a handle on a copycat killer.
France, c.1448 -Nicholas' attempt to save a beautiful young woman from LaCroix backfires.
Episode 9
LET NO MAN TEAR ASUNDER
**
When a murdered woman's heart is found to have been surgically removed, Nick and Tracy investigate the black market for human organs.
Nick has to rescue Natalie who is unaware that she has been targeted for organ harvesting by unscrupulous doctors.
Switzerland c.1830 - A Frankenstein type doctor who's trying to make Nicholas mortal again, attempts to revive his lover who's close to death.
Episode 10
NIGHT IN QUESTION
****
When he and Tracy arrive at a warehouse to meet an informant, Nick is shot in the head and pronounced dead by emergency room staff.
When Nick develops amnesia from his gunshot wound, Natalie tries to shield him from his true nature and his past.
Crimean War c.1853 - Attempting to feed on a dying soldier, LaCroix is staked through the heart and needs Nicholas' help to remedy the situation.
Episode 11
SONS OF BELIAL
***
A woman apparently commits suicide after undergoing an exorcism ritual.
While witnessing an exorcism, Nick becomes host to a demon, then seeks LaCroix's help in exorcising the uncontrollable beast.
Spain, c.1578 - Nicholas and LaCroix are accused of being in league with the devil and await exorcism by fire.
Episode 12
STRINGS
**
The brother of drug addicted pop singer, Christie Black, becomes a suspect when their mother is brutally murdered.
Nick is concerned that Christie's dominating psychotherapist is doing his patient more harm than good. Tracy deals with her father trying to dictate her life.
Russia, 1916 - Nicholas attempts to rescue Empress Alexandra and her son from the controlling influence of the infamous Rasputin.
Episode 13
FEVER
****
Nick and Tracy investigate the death of a scientist working on a cure for AIDS.
A virus that was designed to combat AIDS, proves to be highly contagious and lethal to vampires.
London, c.1665 - A physician asks to be turned into a vampire so that he may better treat plague victims.
Episode 14
DEAD OF NIGHT
***
Nick and Tracy investigate what may or may not be an accidental death at a house believed to be haunted.
Ghosts from the past come back to haunt Tracy, Natalie, and especially Nick who's responsible for creating quite a few in his time.
Austria, c.1528 - Nicholas marries Alyssa, a beautiful young mortal that he intends to bring across on their wedding night.
Episode 15
THE GAMES VAMPIRES PLAY
****
Nick disagrees with Tracy and Capt. Reese on how to find the murderer of a virtual reality software designer.
Nick indulges himself in a virtual reality vampire game that rekindles his desire for blood and killing.
Hey, who needs flashbacks when you've got virtual reality bloodsucking and a bottle of the good stuff.
Episode 16
THE HUMAN FACTOR
***
Janette is back in town, and is implicated in the murder of an arson investigator.
No longer the gal she used to be, Janette seeks Nick's protection from assassins.
1995 - Janette confides in LaCroix her desire to leave Toronto and Nick. Later, she reveals to Nick how she lost her taste for blood.
Episode 17
AVENGING ANGEL
*
A teenager living in a shelter for battered women, accuses her abusive father of murdering her mother.
No vampire or personal stuff going on in this one. Bummer.
Chinatown, c.1850 - Nicholas comes between an abusive Chinese man and his terrified wife.
Episode 18
FALLEN IDOL
**
A mentally challenged teenager witnesses the murder of a popular wrestler.
In her desire to improve the teen's mental status, Natalie uses a serum on him that she derived from Nick's blood.
France, c.1247 - Fleur's son, Andre finds out in a shocking way that his uncle Nicholas is a vampire.
Episode 19
JANE DOE
*
Captain Reese is convinced he knows who was responsible for the death of an unidentified black woman left hanging in the woods.
Captain Reese takes the spotlight, making it a personal crusade to convict a man he knows to be a racially motivated, serial killer.
Europe, c.1918 - While traveling by train, Nicholas and LaCroix encounter a hateful young soldier named Adolph Hitler.
Episode 20
ASHES TO ASHES
****
An anonymous call to the police leads Nick to discover LaCroix with a decapitated body at the Raven.
All vampires considered close to LaCroix are being hunted down and destroyed, and there's no one closer than Nick.
Egypt, 99 - LaCroix feels that his daughter Divia has become a tad unruly, so he sends the child to her room, I mean tomb.
Episode 21
FRANCESCA
**
Nick and Tracy investigate murder victims who have had their throats slashed and blood drained shortly after consuming a gourmet meal.
Nick copes with the possibility that Francesca, a vampire he destroyed long ago, has returned to kill again.
France, 1755 - Nicholas enjoys the gracious hospitality of his vampire hostess, Francesca until he learns of her senseless killing of a talented violinist.
Episode 22
LAST KNIGHT
*
Nick and Tracy encounter tragic consequences when they try to apprehend a prisoner attempting to escape from the precinct.
Nick is pressured by Natalie to try Janette's cure for vampirism, regardless of how dangerous it might be for her.
Personally, I think this whole episode was one long nightmare in which Nick just forgot to wake up.